In this timely revival, Steven Andrew brings God's blessings to you and the USA. Join Andrew and seek God daily for a Christian Nation Government now, an hour per day, or what you can do. Watch this inspiring revival.
"…he appointed singers unto the LORD, and that should praise the beauty of holiness… to say, Praise the LORD; for his mercy endureth for ever. And when they began to sing and to praise, the LORD set ambushments against the children of Ammon, Moab, and mount Seir, which were come against Judah; and they were smitten. For the children of Ammon and Moab stood up against the inhabitants of mount Seir, utterly to slay and destroy them: and when they had made an end of the inhabitants of Seir, every one helped to destroy another." 2 Chronicles 20:21-23.

Watch Revival Video
Support Revival. Donate Today.


Get Involved Daily
Watch Save America Revival!
Cry out to God and pray for a Christian Nation Government Now. Expect God to answer us! Spend an hour per day, or what you can, in prayer.
Praise God with the purpose of God having Christian Nation representatives immediately lawfully replace those disobeying God.
Agree in prayer with Andrew for your loved ones to be saved.
Invite your family, friends and church to join us.
> God's will is a Christian Nation government now. Exodus 18:21, Psalm 2, Mark 12:30, Isaiah 33:22

DAILY PRAYER POINTS
We are in a national emergency. We must turn from our wicked ways and obey God with a Christian Nation government now. Pray in agreement with Andrew an hour per day, or what you can.

Father,
You are America's God. We humble ourselves, seek Your face and turn fromour wicked ways. We want Your will of a Christian nation government right away. We cry out for:
* 100% Christian nation government now… school boards to federal representatives.
* Christians and Churches to get active to do Your will of a Christian nation government.
* Law and order to "justify the righteous and condemn the wicked" Deuteronomy 25:1.
* Christians who keep Your commandments to now replace politicians disobeying You.
Jesus Christ's blood forgives our national sins.
I ask for my loved ones to call on Jesus Christ as their Lord and Savior to be born again and saved.
Help the people in the USA read the Bible and pray daily and agree to Keep Your commandments personally and as a nation.
In Jesus' name. Amen.

* Sign up for email updates at USA.Church
* Daily watch Save America Revival! at USA.Life/news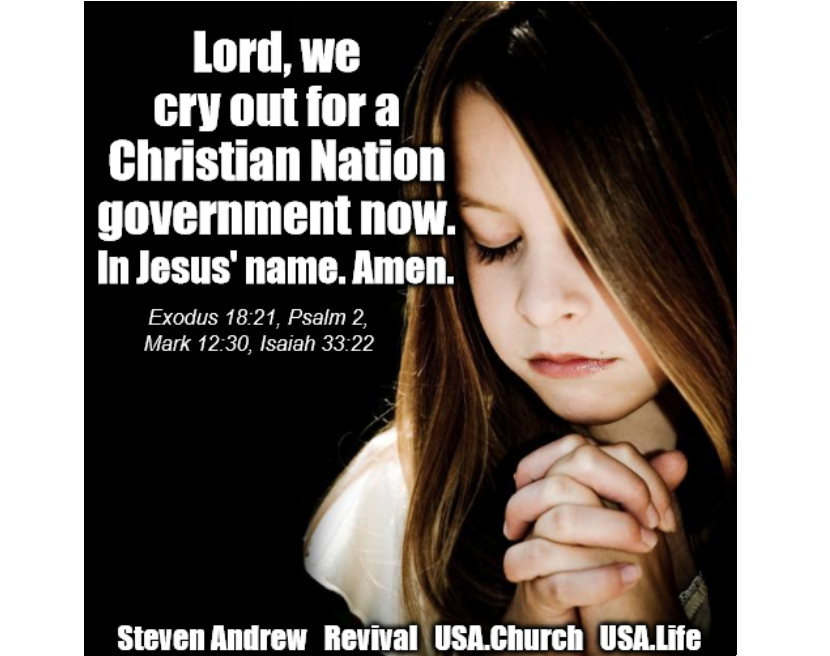 Pray for me. I am praying for you.

Steven Andrew
Pastor, USA Christian Church.

Save America. Share the Gospel. Save lives. Donate Today!