"… thou hast covered me in my mother's womb. I will praise thee; for I am fearfully and wonderfully made: marvellous are thy works; and that my soul knoweth right well. My substance was not hid from thee, when I was made in secret…" Psalm 139:13-15
"How much more shall the blood of Christ, who through the eternal Spirit offered himself without spot to God, purge your conscience from dead works to serve the living God?" Hebrews 9:14″
NATIONAL EMERGENCY. SAVE LIVES. SALVATION. SEEK GOD DAILY WITH STEVEN ANDREW TO DELIVER THE USA FROM THOSE WHO HATE AMERICA.
Bring God's favor and protection to you, your loved ones and the nation.
Watch today's Save America Revival! program.
Agree: I obey God. The USA obeys the Lord!
Roe is dead. There is NO Constitutional right for abortion. This shows Roe and abortion was illegal. The day ROW was declared illegal is one of the happiest days of my life! The curse is removed. We show God that we are on God's side. I have been laboring to end Roe for years.
Since 2020 God raised me up to have the USA reaffirm: God is pro-life. I am pro-life. The USA is a pro-life nation!
This covenant act and living in covenant daily brought God's deliverance.
Donate to our Gospel Fundraiser.
We are raising the next $10,000 to turn the nation to God with 25 powerful ministries.
We know abortion is a Satan-given right. It is not a God-given right. Life is a God-given right!
In the video I give the Bible verse why to be pro-life, the ruling and 26 states where abortion is likely illegal and I pray a special prayer to purge people's consciences from dead works, including painful memories such as abortion… as Hebrews 9:14 says.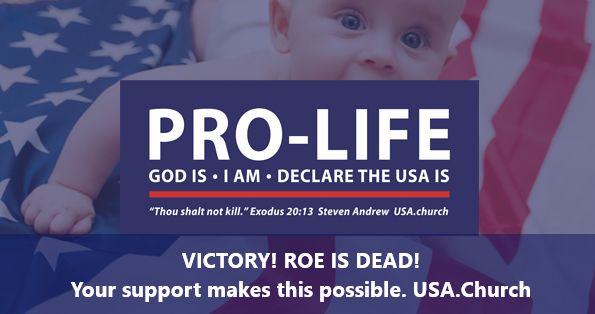 In God we trust to save our Christian nation! I am praying for you. Pray for me. Love in Christ,

Steven Andrew
Pastor, USA Christian Church
Email Sign Up
Support The Gospel. Heal Our Land.
If our mission of saving America, raising godly generations and restoring God's blessings is important to you, donate or becoming a monthly partner today. We are building 25 ministries and are fundraising to raise $5.7 million. Becoming a monthly partner of $10, $30 or $100 makes a difference.