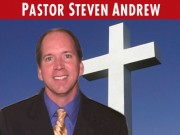 Pastor Steven Andrew helps people know God and God's plans. He teaches the Gospel of Jesus Christ from the Holy Bible. As pastor of USA Christian Church, chairman of the National Day of Prayer Revival Force and an author of Christian living books, he shares God's hope and love. To bring Christian liberty, abundance, security, peace and strong families, he is uniting the USA in Christ.
Statement of Faith
God eternally exists in three Persons as God the Father, God the Son and God the Holy Spirit. (John 10:30, John 14:26, Genesis 1:1, John 1:1)
The Holy Bible is the infallible Word of God and it is our final authority. (2 Timothy 3:16-17, Psalm 119:160, John 15:7)
All have sinned, fallen short of the glory of God and face the judgment of God for their sin. Each person must call on Jesus Christ to be saved. (Romans 3:23, Hebrews 9:27, Romans 10:13)
Salvation is the gift of God. Jesus is the Lamb of God. He lived a perfect sinless life, died and rose from the dead. The blood of Jesus cleanses from all sin. In order to be saved, sinners must be born again. Christians are a new creation in Christ Jesus. (Romans 3:23, Romans 6:23, John 3:16, Acts 4:12, Ephesians 2:8-9, John 1:29, 1 John 1:7)
The First Commandment is to love the Lord our God with all our heart, with all our soul, with all our mind, and with all our strength. (Mark 12:30)
The Second Commandment is to love one another; as Jesus loved us, that we also love one another. Jesus is our Lord. We are to follow Jesus and seek and do the Father's will. (Mark 12:31, John 13:34, Luke 9:23, Matthew 7:21)
God gives us the Holy Spirit to live holy lives glorifying God. (Galatians 5:22-23, 1 Peter 1:14-16, Romans 8:14, 1 Corinthians 12, 2 Corinthians 6:17, John 10:10)
The resurrection of those who have fallen asleep in Christ and their translation, together with those who are alive and remain unto the coming of the Lord (1 Thessalonians 4:16-17; Titus 2:12; 1 Corinthians 15:51-52; Romans 8:23).
The revelation of the Lord Jesus Christ from heaven and the Millennial reign of Christ on earth (2 Thessalonians 1:17; Revelation 19:11-14; Romans 11:26-27; Revelation 20:1-7).
The devil and his angels, the beast and the false prophet, and anyone not found written in the Book of Life, shall be punished everlastingly in the lake which burns with fire and brimstone, which is the second death (Revelation 19:20; Revelation 20:10-15).
"According to His promise, look for new heavens and a new earth in which righteousness dwells." (2 Peter 3:13; Revelation 21 – 22).
USA Christian Church
2059 Camden Ave #280
San Jose, CA 95124
Your Prayer and Support is Needed to Save the USA
Only turning to God will heal the USA. Please consider becoming a monthly partner. We need your help to turn hearts to God and strengthen each believer.